Healthier Urban Families
Calendar/Registration | Community Engagement  |  Professional Development
---
Seminars and Trainings for Families and the Professionals Who Serve Them
The Healthier Urban Families Outreach Program (HUF) understands the needs and concerns of families, particularly those in an urban environment. As a signature program of the Merrill Palmer Skillman Institute, HUF addresses issues relevant to parents, grandparents and the professionals who serve them, through community engagement and education. HUF places a strong emphasis on providing information that is meaningful and accessible to the community.
---
HUF Signature Community Engagement Activities
The Giant Step Teen Conference brings teenagers together from diverse backgrounds to discover the important issues they have in common. The annual conference strives to improve attitudes, open minds and embrace differences. Public, private, charter and parochial schools even home schools from districts across southeast Michigan sent students to Giant Step. Black, White, Asian, Arabic and Hispanic students enter as strangers and leave as friends.
Parent Trainings
HUF provides high-quality training for parents, keeping the needs of the community at the forefront. Speakers on topics of relevance to your group are available at times and locations convenient to you. Call to schedule a low-to no-cost training for your church, community organization, PTO, or other group.
For more information about HUF contact:
Beverly Weathington, LMSW
MPSI, Community Engagement Coordinator
email: ac8787@wayne.edu
Access HUF Parenting Moments E-NewsletterArchive, To recieve Parenting Moment monthly newsletter Sign up HERE
---
HUF Community Advisory Board
The Healthier Urban Families Community Advisory Board will assist in ensuring that our seminars/trainings meet the needs of community agencies, reviewing program materials, as well as acting as ambassadors for our program and exploring the option of partnerships.
Cicely Allen was cultivated in grass-roots community-based movements in Detroit, MI and continues to serve to assist with empowering marginalized communities. She grew up at Operation Get Down/Alkebu-lan Youth Village, an African-centered community resource project that services communities on Detroit's east side. Witnessing the powerful impact that Ujima (collective work and responsibility) had on her community, she was inspired, and began organizing and managing an array of programs and projects at Operation Get Down that centered on cultural awareness and self-determination. She later became a licensed property and casualty insurance agent, managing and producing commercial insurance accounts for several small businesses throughout Metro Detroit. Cicely worked hard to ensure small mom & pop shops in Detroit were offered fair insurance rates and good products. After working as an award-winning top producer in the insurance industry for over 10 years, she answered the call to return to lead community service projects that focus on restoring hope and provide support to marginalized communities. She went back to her roots, serving as an after-school program instructor at Alke-bulan Village, leading programs and activities that instill African-centered culture, self-confidence and creativity that support the vision of creating thriving self-reliant communities. As a result of her deep commitment to racial equity, she was selected to serve as a Racial Equity Fellow with the Detroit Equity Action Lab, a program of the Damon J. Keith Center for Civil Rights at the Wayne State University Law School in Detroit. As a fellow, Cicely is trained to identify and analyze root causes of systemic racism and utilize frameworks designed to dismantle racist systems. Motherhood is central to Cicely's life. She's assisted with the design and implementation of several programs and projects developed to end the Black maternal health crisis. Cicely believes that when a Black woman is able to heal, her home, community, city, state and nation will be able to heal. In her current work with the Wisdom Institute, she supports a womanist movement dedicated to the upliftment of African American womanhood and girlhood using a Spirit-centered approach to achieve Reproductive Justice, Healing Justice and Gender Justice. Cicely currently serves on the Board of Directors for Earthlight Health & Holistic Wellness. She is a dedicated wife, mother of two amazing children, and a proud Detroiter!
Rita Clark  A graduate of Eastern Michigan University Masters of Social Work Program and the University of Michigan Ann Arbor, Social Work Sexual Health Certificate Program in Sex Education, Counseling and Therapy; Ms. Clark is an experienced Licensed Clinical Therapist of Henry Ford Health, Private Practice clinician with The Center for Relationships and Sexual Health in Royal Oak, Founder and CEO of Encouraging Youth Excellence, LLC. and the Inner Source, LLC.
Her professional history extends from mental/behavioral health clinical practice, sex therapy, education, human trafficking prevention prostitution offenders program, grief, loss and trauma, juvenile justice, foster care, wraparound, multi-systemic therapy, Head Start, substance abuse counseling, prison re-entry, employability/career training, grant writing, project based learning afterschool programs, youth sports and recreation, youth leadership development, collegiate instruction, school based wellness programs and restorative practice.
Throughout Metropolitan Detroit Ms. Clark has mentored, counseled and provided professional development, psycho education and prevention based services for youth and adult populations.  Notable topics include teen dating, bullying, cyber bullying, hip hop culture influence and impact, youth and social media, sexting, gender socialization and behavior, sex education, violence awareness and prevention, intimate partner violence and abuse, sexual assault, human trafficking, HIV/AIDS, LGBTQIA+ youth, conflict resolution, restorative practice, anger management, depression, anxiety, low self-esteem, intra-familial relationships, youth development practice and principles, social-emotional learning, life skills development, service learning and community activism.
Her passion to "touch lives and make a difference" is her personal and professional commitment to the field of social work. Ms. Clark is sincere in her efforts to bring forth positive change in disenfranchised communities while empowering youth to be change agents. Ms. Clark is further committed to encouraging, promoting and implementing positive youth development opportunities for all youth and young adults while creating meaningful life experiences that will provide them access to opportunities they may not otherwise have a chance to experience.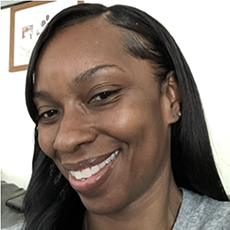 Tanneshia Coleman  From a young age, being of service to others is something that came natural to me. Being hands on no matter the event is who I am. My name is Tanneshia (Tuh•Knee/shuh). As a lifelong resident and continued tourist of Detroit, I am a product of the Detroit Public School System and experienced a short tenure at Wayne State University. My educational journey was cut short as I focused on caring for my eldest daughter who was born with meningitis. While she passed away in 2004, I am the mother to four other amazing children who are 24, 18, 12, and 2. As a result of many different experiences, I have a wide range of interests which include Autism awareness, education and inclusion, women's preventative care with a focus on breast cancer research as well as grief counseling and final arrangement consultations. Following the death of my nephew in 2019, myself along with my family, created 'Coleman Family Comfort' specializing in funeral planning and coordination services.


Karen Ebeling is a professor emerita from Marygrove College. She is a developmental psychologist who taught courses covering the full range of development with an emphasis on the foundation of a healthy adulthood, child well-being. Her work focused on introducing students to current research on child development and helping parents, teachers, social workers, and pre-nursing students observe, assimilate, and apply beneficial child-rearing practices, both with their own children and with children in the community.
Latasha Holly has a background in counseling and a strong interest in Black maternal mental health. She has a bachelor's from Western Michigan University and a Master of Arts in Mental Health Counseling from Spring Arbor University, as well as several years of experience as a counselor and community advocate. Latasha is an active member with Black Breastfeeding Caucus, and a volunteer with Birth Detroit. She is a wife, mother of three and enjoys a good fiction novel.
Since 2018, Tomika Horne has been an advisory board member of The Merrill Palmer Skillman Institute's Healthier Urban Families Program. She is currently an Assistant Corporation Counsel with the City of Detroit Law Department prosecuting misdemeanor offenses at the 36th District Court. Before joining the Law Department, Ms. Horne worked as the Data Project Coordinator (contractor) with the United States Attorney's Office Eastern District of Michigan identifying real estate fraud in the Detroit area using various electronic platforms for research. She also specializes in legal research and writing, civil litigation, and real property law. She is committed to improving the quality of life for the citizens of Detroit. Attorney Horne is from Detroit, Michigan where she received her high school diploma from Martin Luther King, Jr. Senior High School's Math Science and Applied Technology Program (M.S.A.T). She graduated from Michigan State University, and she received her law degree from The Thomas M. Cooley Law School in 2005


Sandra Jones-Kariem is a Licensed Master Social Worker (L.M.S.W.) and a Certified Forensic Counselor. She is employed at YWCA Interim House as the Program Manager and Counselor. She has worked in the Social Work profession for over 30 years and is a strong advocate for women and children. She works with women and children fleeing from an abusive relationship and/or environment. She is, also, a supportive mother, grandmother and great-grandmother, dedicated minister and evangelist, prophetic praise dancer, gifted actress, powerful poet and loving caregiver.


Tahira Khalid has been a social activist both personally and professionally. She has worked diligently to address the disparities, injustices, and negative social narratives in this society which reduce our fellow citizens' abilities to create healthy lives and develop the gifts which each individual has been provided by their Creator to benefit humanity. 
Tahira has been privileged to work in major social institutions including Wayne State University School of Medicine, National Healthy Start, Muslim Family Services, Institute for Population Health, and Sister Friends Detroit, with amazing individuals dedicated to improving and enhancing the fabric of our society. She has contributed to this work as a researcher, clinician, and lecturer.  Her role models were her parents Era and Oscar Hudson who dedicated their entire lives to raise contributing individuals and lifting others in our society whose lives were challenged by their inability to vote, to be educated, etc. Her inspiration also comes from the amazing individuals and families with whom she has had the privilege to work and who have made amazing accomplishments in their lives in spite of the disparities which they have had to endure, but which have encouraged them to run forward based on the dreams of their ancestors, and the hope they have carried to build positive futures for themselves and families.


Calvin T. Mann, National Encourager is facilitator, talk show host (Daddy Talk), mentor, visionary, coach, author, community activist and proud father of 4. He continues to build boys and men in ways that change their trajectory. He has coordinated recreation and mentorship programs, led intervention strategies in detention centers, communities, families, and schools. Since 2004, a champion for the silenced voices of children slain to suicide and violence; Mann placed t-shirts with positive messages of encouragement at the sight of slain children to raise awareness of our responsibility to our children and their future. Mann's passion and unique perspective exemplifies diversity, self-belief and love for his fellow man. Often serving on panels, creating intervention opportunities in schools, or speaking directly to students of all ages offering his enlightening words while captivating audiences. Offering practical solutions and perspectives of fatherhood, realizing your potential, mentorship, family connections, community impact, or sportsmanship his topics empower people toward real change. He has earned the respect and admiration of many including the City of Detroit who bestowed its highest honor The Spirit of Detroit award along with Wayne County and the State of Michigan both presenting powerful Resolutions naming April 6th EMIY National Respect Day to acknowledge the achievement, investment and role of Calvin T. Mann locally and throughout the country. Calvin is a Man[n] on the front line; encouraging boys and supporting fathers; changing families and our community one encouraging word at a time.
Lima Pereira is an independent consultant specializing in organizational support and training for programs funded by the U.S. Departments of Health and Human Services Administration for Children and Families. He has a proven record of success designing and developing program interventions and strengthening service delivery systems. He has collaborated with the University of Michigan Department of Psychiatry on a 12-month fatherhood research project; a 2015 fellow at the Center for Urban Families, Practitioner Leadership Institute (PLI) Academy, Baltimore, Maryland; he has presented at local and national conferences - including the ACF Office of Family Assistance Healthy Marriage and Responsible Fatherhood Annual Training and Technical Meeting.
Debra Spring is an innovative, experienced, and trusted leader with a proven track record of enhancing and creating operating opportunities for nonprofit organizations and childcare centers. She is a graduate of Wayne State University with a degree in elementary education K-8 and Special Education 0 to 26 with certification in POHI (Physical or Other Heath Impairments), Developmentally Delayed and has completed work towards a masters at UCLA in Management & Administration.  She spent more than 30 years working in Head Start building the Detroit Head Start program to serve more than 2000 children and over 200 employees in Southwest and Southeast Detroit. She is an advocate for education, particularly for young children, community involvement and community events supporting needs including cultural sensitivity, diversity, education, literacy, and resource building.  For the last 5 years Ms. Spring has worked contractually to provide management and organization services to different agencies and grant writing services. She serves as COO to Global Alliance Solutions Foundation, an organization supporting Refugees and Victims of Human Trafficking. She has worked with several non-profits to develop compliance systems, professional development designs, reviewed and written policies and procedures and other operational systems for quality operations. Ms. Spring is the lead instructor for Transition To Success (TTSâ"¢) a training model which brings individuals and organizations together, supports the design of networks and partnerships to maximize resources while working towards the reduction of the social determinants of health therefore supporting the elimination of poverty and truly serving the children and families of our communities. Ms. Spring emphatically believes that people working together can make a difference in communities and for all individuals, children, and families.


Doreen Turk-White is an executive director and chief executive officer with the Empowerment Zone Coalition, Inc. (EZC). Mrs. Turk-White is responsible for the day-to-day management and administration of the coalition including supervision and training of direct and support staff. She applies more than Forty-two (42) years of experience in community health to the development of innovative approaches to social ills such as substance abuse. Mrs. Turk-White has successfully develop, implemented, and managed several (Federal, State & local) prevention projects. Some of the major projects that she has managed include the Detroit Wayne Integrated Health Network (DWIHN) Contracts, Drug Free Communities Support Grant, Center for Substance Abuse Prevention Community Prevention Coalition Demonstration Grant, the Michigan Governor's Discretionary Grant, and Partnership for Success grant.
Mrs. Turk-White established EZC as a 501(c) 3 nonprofit substance abuse prevention coalition in the city of Detroit. For the past thirty-one (31) years, her major focus has been on coalition building in the field of substance abuse prevention. She is widely respected for her skills in community organizing, action research, coalition building, training, program development and troubleshooting. She has been recognized for her outstanding leadership qualities through receiving fellowships from the Eureka Communities, Detroit Chapter and Join Together, Boston University. Mrs. Turk-White also has been a consultant for the Community Anti-Drug Coalitions of America in Alexandria, Virginia and she provided technical expertise in coalition building to the White House National Office of Drug Control Policy. Mrs. Turk-White has received several awards for outstanding community service in substance abuse prevention. She received the Detroit City Council Spirit of Detroit award, Wayne County Commission and the Michigan Department of Community Health, Office of Drug Control Policy community services awards. She serves on a variety of community boards, and she was selected to participate in national focus groups including National Youth Anti-Drug Media Campaign and Achieving Outcomes, a CSAP evaluation initiative administered by Caliber Associates in Washington D.C. Mrs. Turk-White also served on the Coalition Advisory Council for the Community Anti-Drug Coalitions of America in Alexandria, Virginia (2000-2005).
Mrs. Turk-White holds a Bachelor of Science degree in health education from Central Michigan University in Mount Pleasant, Michigan, Masters of Education in clinic/community health education from Wayne State University, Detroit, Michigan. She received certification as a Health Education Specialist from the National Commission for Health Education Credentialing, Inc. in Allenstown, Pennsylvania, and certification as a Prevention Consultant from the Michigan Certification Board for Addiction Professionals (MCBAP).


Theresa Williams is currently a school social worker in a public school district. She has extensive clinical experience in children's outpatient, hospital trauma therapy programs and case management services. Theresa's educational background includes a bachelor's in sociology, two masters' degrees in social work and Christian ministry, and a diploma in media arts.
Theresa is a dedicated social worker who constantly discovers innovative ways of reaching children, youth and their families. She recognizes media's influence on our current society and explores creative approaches to addressing mental health issues. Theresa is a former co-founder of Sistas On The Move in the 90s. This non-profit organization featured talent extravaganza events that gave local youth exposure in performing arts. She has also volunteered as a camera crew member with the Just Ask Talk show featured on local cable station.
Gwendolyn Winston is one of the founders of the Wisdom Institute (formerly Wisdom Institute for Teenage Mothers). Winston is trained as a Whole Systems In The Room and Future Search Facilitator and uses her skills to serve as collaborator, organizer and animator extraordinaire.
Wisdom Institute (Wisdom) is a culture and community. In existence since 1999, Wisdom is an activist, grass root womanhood girlhood 501c3 organization.  Over the years our work has evolved from an award-winning program mentoring pregnant and parenting teens to elevating awareness of intersectional causes that disproportionately and negatively impact African American women and girls (reproductive justice; maternal child health; healing, gender and racial justice, water affordability, and right to counsel for those facing eviction.) As Wisdom continuously evolves, its vision remains centered and strong.  The end vision is that African American women fully recognize our wisdom and know enfranchised power.